Singapore, 4th March 2021, ZEXPRWIRE – MDEX is a decentralized exchange on Heco, the ecological chain on Huobi.
MDEX is a decentralized trading platform based on the AMM (automatic market maker) mechanism on the Huobi ecological chain;
MDEX aims to integrate the various advantages of multiple basic public chains to create a composite (integrated DEX, IMO, DAO) DEX ecosystem;
MDEX uses "dual mining mechanism": liquidity mining and transaction mining;
MDX–the core MDEX token, not only has the function of a trading medium but also can be used in voting, repurchase, fundraising and other scenarios.
MDEX token economy and MDX value
Users trading on MDEX can earn mining rewards, which will attract users to the MDEX platform;
According to the public information disclosed by MDEX, MDEX's platform revenue comes from transaction fees which is 0.3% of the transaction volume;
Of the 0.3% transaction fee charged, 0.3% is used to refuel the MDX ecosystem (0.1% to promote the development of ecological projects, 0.14% to reward mining users, and 0.06% to MDX repurchase and destroy). The reward exceeds 35 million USDT, and more than 22 million USDT has been repurchased;
The platform MDX can be used in the following scenarios. 

Voting: MDX holders can propose to initiate a token listing by voting or collateralizing
Repurchase & burn: 0.3% of the transaction amount is used as transaction fees, 0.14% of which is used to reward collateralizers and some LPs, and 0.06% for destroying;
Standard fundraising token: Similar to the ICO on Ethereum, MDX is a standard fundraising token that is based on the HT-IMO, the decentralized fundraising protocol on MDEX. Thus, MDX price will increase as IMO (Initial Miner Offerings) sees wider application.
MDX token distribution
Total number of tokens in circulation: 1 billion
Block generation cycle: 3 seconds on average
Block reward: 80 MDX rewards per block
Halving cycle: halved every six months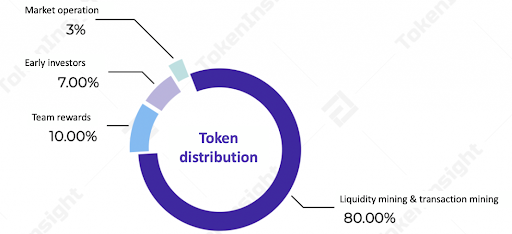 Liquidity mining
Transaction fee: 0.3%, consistent with Uniswap;
Total daily output: 785,532 MDX;
Total monthly output: 23,565,972 MDX.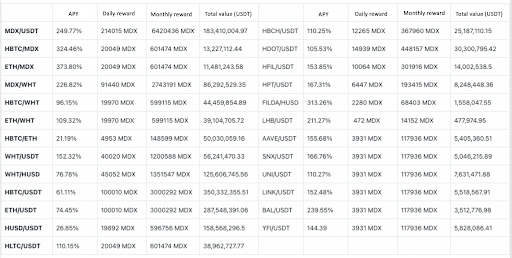 Rewards for liquidity mining on MDEX up till 26th Feb 2021 (source: mdex)
Boardroom reward pool
0.14% of the 0.3% transaction fee charged will be used as rewards that are distributed by the Boardroom reward pool on the MDEX platform;
The reward includes the transaction pairs as shown in the figure below, and the reward token includes two types: HT and MDX;
Cumulative reward: 35 million USDT.

Rewards distributed in the Boardroom reward pool up till 26th Feb 2021 (source: mdex)
Transaction mining
In MDEX, users who participate in transactions can get rewards of MDEX governance token MDX;
Transactions pairs of high output: USDT/HFIL, SNX/USDT, AAVE/USDT, USDT/HBCH and HDOT/USDT, and APY currently exceeds 600%;
In addition to mainstream assets, it also includes a large number of DeFi ecological projects, such as AAVE and SNX.

High APY revenue of transaction mining up till 26th Feb 2021 (source: mdex)
MDEX's recent market performance

The ranking of MDEX market share up till 25th Feb 2021 (source: coinmarketcap)
As of February 25, 2021, the 24-hour trading volume of MDEX in the decentralized exchange sector had reached US$3.12 billion, surpassing Uniswap's and Pancake's, making itself the number one in the market;
So far, the market share of MDEX has reached 51.54% in DEX;
MDEX is a decentralized exchange based on the AMM mechanism and is built on Heco.It supports the Ethereum public chain at the same time;
The characteristic is that it has a "dual mining" mechanism: in addition to the original liquid mining in the AMM mechanism, investors can also obtain mining income by using MDEX for transactions, that is, "transaction mining";
In addition to the governance token MDX that can be earned by trading and mining, MDX will also be repurchased and destroyed regularly, which is very similar to the economic model of exchange platform token;
The average gas fee of each MDEX transaction is about 0.1 cents, and users will receive MDX subsidies for the transaction fee paid
MDEX attracted more than US$2 billion TVL (total lock-up volume) in more than a month, with more than 45,000 daily active users and a total trading volume of 40.8 billion;
The following is the market performance data released by MDX: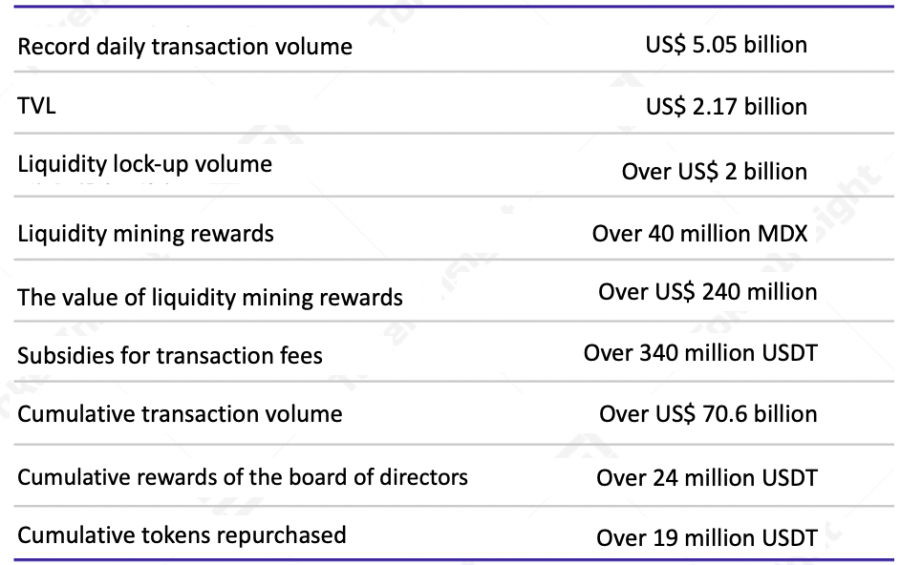 MDEX market data up till 26th Feb 2021 (source: MDEX, tokeninsight)
MDX's price in the secondary market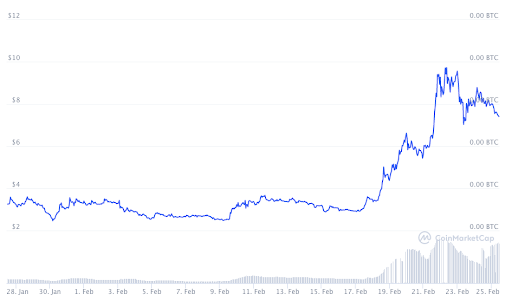 MDX price and transaction volume (source: coinmarketcap)
A comparison of DEX on different chains
Among the four DEXs compared by TokenInsight, the performance of non-Ethereum DEX has caught up with Uniswap's. Below are a brief summary and comparison of DEX's market data.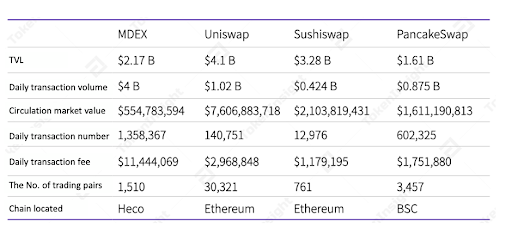 A comparison of Uniswap, MDex, PancakeSwap and Sushiswap up till 25th Feb 2021 (source: Uniswap, MDex, PancakeSwap, Sushiswap, TokenInsight)
The comparison of several DEX exchanges suggests that MDEX's transaction volume ranks first in the market. The total lock-up volume is 1/2 of Uniswap's and 2/3 of SushiSwap's, and has surpassed PancakeSwap's by 0.25 times;
However, the circulation market value of MDX is only 7.3% of UNI's, 26.37% of SUSHI's, and 34.43% of CAKE's. It means that the value of MDX is still underestimated;
In terms of the number of trading pairs, MDEX currently has 1,510 token pairs. Compared with the more comprehensive Uniswap (more than 30,000 currency pairs), there is still potential to be unleashed. When the Heco ecosystem is getting better, the potential demand for MDEX will be much higher than this.
Summary
The attraction of the bull market and the high yield in the DeFi market has led to the hyperactivity of DEX since 2021. However, the increasingly high gas fee in Ethereum has created a so-called "spillover effect" in the market, which has enabled the development of non-Ethereum DEX such as MDEX and Pancakeswap. Due to the user incentive mechanism of transaction mining and repurchase rewards, MDEX currently has relatively low transaction costs and users even gain benefits from transactions. These distinctive advantages explain MDEX's fast growth: MDEX's 24-hour transaction volume exceeded Uniswap's. In the long run, when the ecology is gradually stable, low transaction fees, low slippage, various trading pairs, and high-quality trading experience are the core competitiveness of MDEX.
The post Get to know MDEX in 3 minutes appeared first on Zex PR Wire.
Information contained on this page is provided by an independent third-party content provider. Binary News Network and this Site make no warranties or representations in connection therewith. If you are affiliated with this page and would like it removed please contact [email protected]