Elysium Lila is a comprehensive land ownership platform that provides users from any geographical location to own a virtual land/property in the metaverse. This innovative digital reality platform facilitates the acquisition of virtual property to work, play, learn and socialize among others with all real-world amenities to accord a fascinating and realistic experience for its users.
New York, New York, United States, 15th Sep 2022, Elysium LILA Metaverse is a revolutionary platform that offers committed land ownership allowing users around the world to buy land/property in the metaverse. The innovative platform provides all real-world amenities for a better experience for its users.
"Elysium is a Blockchain-based platform built on Binance Smart Chain leverages Metaverse and adapted to the web3.0 ecosystem that offers an entirely new approach to the industry. Witness the next-generation virtual real-estate with real-world experiences," says Ali Hassan Al-Shaikh, CEO and Co-Founder, Elysium.
The virtual world is currently governed by centralized companies that take advantage of user data and assets for their benefit. This has resulted in a fragmented and competitive environment where the user experience is not always the best.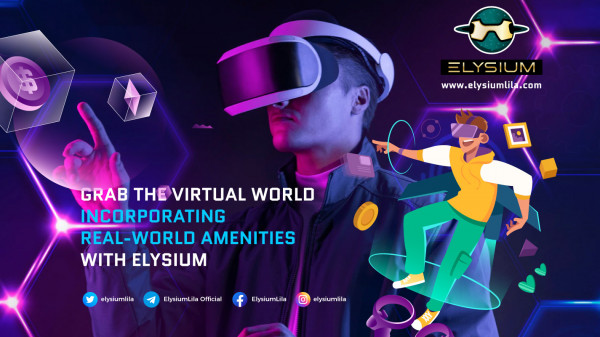 A community-governed virtual world ecosystem could be the answer to this problem. It will create an environment where users can collaborate and benefit from the assets they own. Elysium is a committed land ownership platform where users can sell/buy/trade plots which gives its users an opportunity to earn in the metaverse.
The Elysium Metaverse is a new and innovative concept in the world of real estate which provides its users with a seamless and hassle-free interactive and immersive digital world experience. Furthermore, Elysium Platform is connected with the real world and the operations are further reinforced with its indigenous token LILA, a BEP-20 standard token.
Elysium provides recreational events or centers to give a real-world experience such as:
Virtual Malls: By creating virtual malls, the platform revolutionizes virtual shopping in the metaverse where users can roam and buy their favorite products. They can enjoy their shopping with family, and friends, and interact with them without any traffic worries.
Music Concerts: The platform is a perfect musical treat for music lovers where they can enjoy their favorite musician's live concerts by participating and enjoying the virtual world.
Sports Events: Elysium will host a variety of sports events. Each user can create their avatar, and by taking part in the games, they can discover the wonder of this metaverse sports arena. They can even buy sporting products, interact with others, and compete in virtual sports events.
Gaming Platform: Leverage Elysium's play-to-earn games allow monetize your gaming and receive cryptocurrency rewards.
E-Commerce Advertising Space: The platform offers virtual advertising in the metaverse through virtual billboards and banners.
Events and Party Space:  Elysium creates a party space where users can host and invite their friends and relatives for any type of event or party.
Unveil Elysium's native token LILA which offers exciting rewards and utilities like staking, goods & services, access to games, and buy/sell/trade plots to its users.
In order to eliminate human errors and the exploitation of investor funds, Elysium gives the community the ability to control the virtual environment. The community can decide policies for their DeFi protocols, set parameters for virtual land auctions, define yield rates, etc.
Enjoy high privileges by owning a higher number of tokens and get the power to regulate administrative decisions and novel investing guidelines in the Elysium universe.
Please visit https://www.elysiumlila.com/ to explore our Metaverse.
For the latest updates and services about Elysium join our social media channels
Telegram: https://telegram.me/+8jApNi5CgaBjY2Fi
Discord: https://discord.com/invite/Ght9xvFbKV
Facebook: https://www.facebook.com/ElysiumLila
Instagram: https://www.instagram.com/elysiumlila/
Twitter: https://twitter.com/elysiumlila
Media Contact
Organization: Elysium LILA
Contact Person: Ali Hassan Al-Shaikh
Email: [email protected]
Address 1: 80 Broad Street 5th Floor
Address 2: 10004 New York City
Phone: +1-(332) 265-0978
Website: https://www.elysiumlila.com/
City: New York
State: New York
Country: United States
The post Elysium LILA Metaverse: A global platform launches its Virtual World Ecosystem with crypto assets, NFTs, and DeFi. appeared first on King Newswire.
Information contained on this page is provided by an independent third-party content provider. Binary News Network and this site make no warranties or representations in connection therewith. If you are affiliated with this page and would like it removed please contact [email protected]