Dubai, United Arab Emirates, 25th Aug 2022,  GaliXCity is an online MMORTS game that includes tactical thinking, and in-depth social integration in which gamers fight for survival in the open world. You can fully own and seamlessly trade digital assets through NFT technology.
You can own the lands in the game, collect resources and turn them into NFTs to trade, buy and sell with other players. Such activities are of your own accord and will be shown on the Marketplace for the sake of transparency and publicity.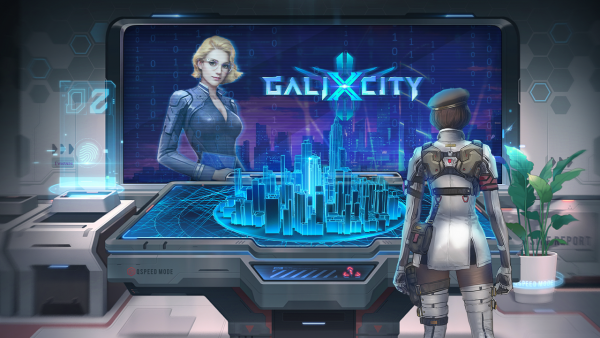 How can customers Earn from GaliXCity?
GaliXCity's players collect NEMO and resources through PvP and AvA activities, Boss hunting and special events, all of which can be packaged and exchanged, bought and sold at high prices on NEMO Platform's Marketplace.
As for investors, they can participate in the project as players to collect and package resources and NFTs to exchange, buy and sell them on Marketplace.
For Farmers that have abundant human resources, they can invest, make reasonable calculations and necessary preparations to maximally collect NEMO and resources, then sell them on the Marketplace at great prices.
For Game Guild, they build a strong community, cooperate together, and share profits among Guild owner and Game Guild members, supported by the project's policies.
More specifically, for the landowners of GaliXCity, the land that they own will dominate the entire project server, and continuously multiply an infinite amount of resources thanks to the Free Mint Hero NFT mode. Finally, they can upgrade their lands to earn more "NEMO" or put NFT items on the Marketplace to Earn.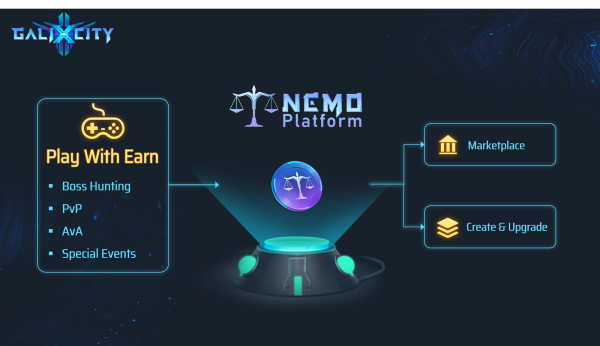 Current Situation and PWE model
The market's current situation is how customers' rights are increasingly being disregarded; projects' Tokenomic are often allocated to VCs, core teams or Developers, then the Marketing and Community team come immediately after.
In addition, the purchase price gap between VCs and users is significantly large.
These are the factors that "anger" customers and retail investors. It must be said, customers and supporters are the decisive factors for the success of a project. Ironically, their benefits are extremely lacking and come with a risk of the token being "dumped" by the VCs.
In the above scenario, the Play-With-Earn (PWE) model presents itself as a supporting hand to keep everything together. So, what is Play-With-Earn model?
A project using the Play-With-Earn model will have a Tokenomic being contributed or allocated 100% to the community. There will be no pre-mint tokens or tokens being sold early to investment funds. Users must participate in the project activities such as playing, farming, and multi-playing to own the tokens.
This is the only way to own tokens – for the customers, the funds and the development team. Therefore, it can be understood that Play-With-Earn is a model used to implement fairness in the project's Tokenomic distribution mechanism.
Advantages of Play With Earn in GaliXCity:
Customers or investors can experience/participate in the product completely free of charge, then when they find themselves suitable for the project, they can start investing through NEMO coins with NEMO Platform.
Customers can choose Play or Earn; "Play for fun" or "Play for cash"
The project founding team will focus on improving the proper distribution of the token, skipping the traditional fundraising process.
For the community: The project promises opportunities to participate, buy and sell tokens from the very beginning. Also, the community members are given the right to personal govern, to contribute to the project as their wishes be heard by the development team
For retail investors: Having the opportunity to buy tokens as reserved funds without the risk of powerful investors deciding to mass release tokens, causing the token price to drop. 
Focus on educating the community: To change the previous P2E thinking, it requires a lot of time and appropriate approaches with the PWE model.
NEMO Platform and NEMO Token
NEMO Platform is a management and operation platform that automates the decentralized digital economy model. The core principle is to use automated tools & technologies to monitor the value of NEMO Token.
The NEMO Token is a Stablecoin.
So what will the Stablecoin in GaliXCity be like? Not only do stablecoins offer many of the benefits that other cryptocurrencies already have, Stablecoins is fundamentally different as they are stable, just as their name suggests.
First, the NEMO Token has a stable value of 1NEMO = 0.1$ (USDT).
Second, the NEMO Platform will operate automatically by using:
The economy monitoring system.
Inflation reduction – inflation warning tool.
Navigating Inflation – Automated anti-inflation technology & managed funds.
The system regulates demand-supply, keeping the balance stable.
Third, the NEMO Token also has the potential to become an important component in decentralized finance (DeFi). DeFi is an alternative to the existing financial systems with its system being built on public blockchains. The NEMO-based symbiosis allows any GameFi project to be balanced and stable.
(Picture of many projects sharing NEMO coin)
Fourth, centralized NEMO Token are backed 1:1 by the fiat currency, i.e., Tether (USDT) is definitely a prominent name in the market when it comes to Stablecoins.
Overall, NEMO Platform is a centralized organization, started and operated properly. Through NEMO Platform, GaliXCity is stabilized with market prices, investment customers do not have to worry about token inflation or "price dropping" due to mass "dumping."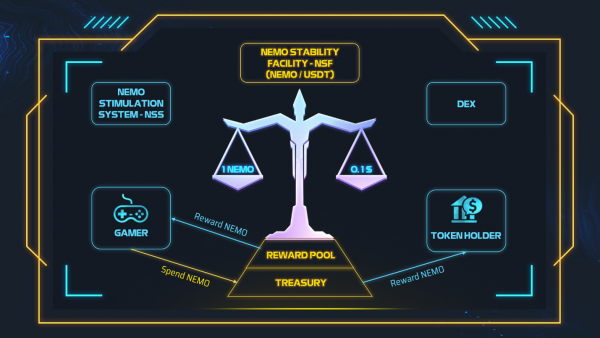 What benefits will VCs get when joining GaliXCity?
With the PWE model, VCs will no longer have the advantage of mass pumping leading to mass dumping like the previous P2E model, which is a major risk to Players and the Studio.
Thus, with the balanced exchange rate of NEMO Token, both" pumping" and "dumping" no longer benefit VCs.
Understand that mentality, the project team offers policies and benefits exclusively for VCs, which are: NEMO agency will get an appropriate discount for each subscription package along with guaranteed benefits when buying Mystery Box at each INO sale.
Additionally, Land NFT is also one of the factors worth considering for VCs, as well as Farmers, Game Guilds, users… Gamers' activities on Land are discounted for Landowners. Furthermore, only Land can produce Hero NFTs, a rare type of NFT that is essential to the GaliX Universe.
With that, the commitment of return values for the VCs is stable and long-term, as when buying NFT, the value will also be accumulated and earned continuously over time.
Media Contact
Organization: AIVO VENTURE – F.Z.C
Contact Person: Media Relations
Email: Send Email
City: Dubai
Country: United Arab Emirates
Website: http://aivocorp.co/en
The post GaliXCity – The first MMORTS Game On Blockchain appeared first on King Newswire.
Information contained on this page is provided by an independent third-party content provider. Binary News Network and this site make no warranties or representations in connection therewith. If you are affiliated with this page and would like it removed please contact [email protected]