Montreal, Canada, Crypto market has thus far welcomed various good news, especially those that concern boosting its liquidity. BlackRock with close to US$10 Trillion in assets under management has recently announced that they had launched a private trust to give clients exposure to spot BTC. At the same time, Wetux has debuted its On-Chain Extractable Value Bot and FlashLoan Pooling operations, giving a much needed helping hand on enhancing DeFi's capital efficiency. As the ETH Merge hype starts to pop, the overall crypto market is seeing a mild correction.  In this very context, the importance of liquidity is highlighted. 
Wetux is gathering the principal capital for its on-chain activities via its staking programs. At time of writing, its staking offers range from 10 to 52 weeks, with corresponding ROI ranging from 7.99% for the shortest term, up-to a compounded APY of 418% for the 52-week term. The ROI is considered high, on par with the initial surge of DeFi projects in 2020.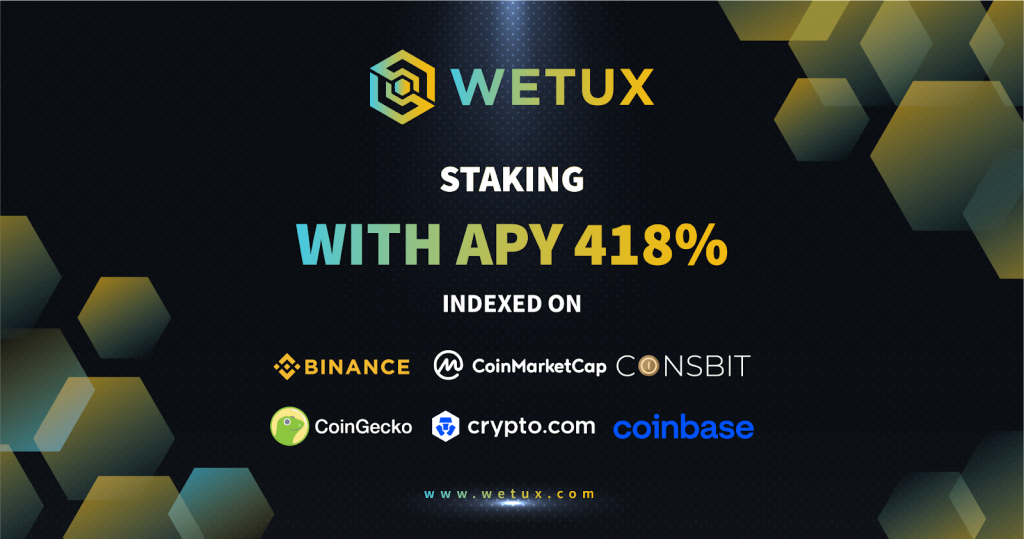 It is worth noting that Wetux's staking programs are not exactly the same as popular yield farming options. The key difference lies in the fact that the staked capital in Wetux is actually put to work in its On-Chain Extractable Value and FlashLoan Pooling operations. These mechanisms that employ the on-chain cash flows are arguably more proactive and thus sustainable than simple yield farming platforms. All the statistics of Wetux's on-chain operations are publicly verifiable at its revenue-reporting site. 
The Wetux Whitepaper reveals that the proceedings from the aforementioned activities are split into three portions. The major one is reserved for staking rewards payable to the retail investors on our platform. Another portion is used to buy back WETUX tokens on the open market, and burn them off, thereby reducing the supply and facilitating price appreciation. The final portion funds the active development of WETUX's open liquidity framework with the Web 3.0 Neo-Economy being the ultimate beneficiary.
Its native token, also named WETUX, is currently tradable on Coinsbit. Moreover, it is also indexed on all major crypto new aggregators, including Coingecko, CoinMarketCap, Coinbase, Binance and Crypto.Com. 
Media Contact:
Website: https://wetux.com/
Twitter: https://twitter.com/Wetux_liquidity
Telegram: https://t.me/Wetux_Community
Medium: https://medium.com/@Wetux_liquidity